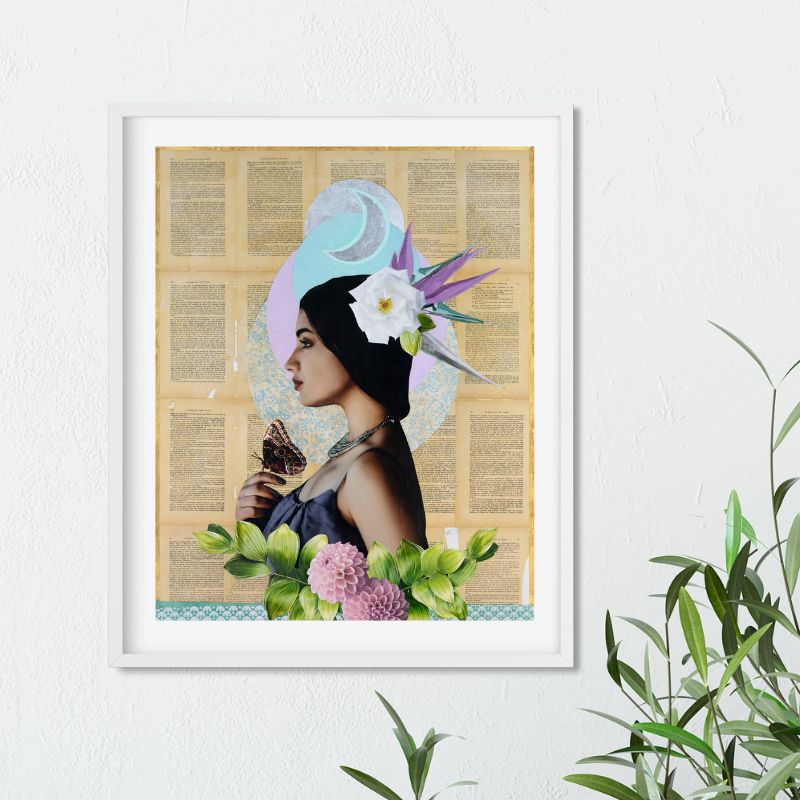 Moment with the Moon
HERE's Moment with the Moon… 🌙

She activates feminine energy through the symbolism of the sun and the moon.

Made with vintage bookpages, fine art paper, collage, and paint.

Artists, including me, have long been captivated by the sun + moon and the energy and feelings they awaken within us.

The sun represents vitality, life force, passion and aliveness. ✨

The moon brings forth those opposites: mystery, intuition, inward reflection and emotional depth.

Moment with the Moon makes me feel grounded when I see her.

She reminds me of the importance of balance in life.

She helps me to take deep breaths when life gets stressful, and simply take the next indicated action towards coming into myself.

I don't just create art.

I create art that feels good to your soul.

Art that helps you to know the best version of yourself and to remember your inner wisdom at the most important moments of uncertainty.

Moments with the Moon is available to fill the empty space on your wall that feels incomplete.
About the Original

The original is 30x40 feet on a canvas with 1.5 inch sides and is available for purchase. If you wish to add this original to your art collection, contact me for pricing.
About the Print
This beauty is hand-embellished with gold metallic paint and glints when the light falls gently on it. With this hand touched feature by the artist, each print is uniquely different.
This piece is also printed on bright white, archival, 340 gsm cotton fine art paper. It is acid, linen and chlorine free. The cold press quality of the paper provides an elegantly textured finish, enabling rich, deep blacks and an incredibly wide color gamut. 
Please note that this is an 11x14 print and will arrive without a frame. It will, however, easily fit into a standard 11x14 inch frame of your choice.
If you would like a print that is larger than 11x14, contact me for print size options.